Papiersaal, Zürich
Support: Gareth Dunlop (IRL)
Letzten Donnerstag verzauberte Michael Malarkey mit seinen folkigen Singer-Songwriter Liedern das Zürcher Publikum und zeigte, dass er mehr drauf hat, als nur den bösen Vampir im Fernsehen zu spielen.
Michael Malarkey, den meisten bekannt aus The Vampire Diaries als blutrünstige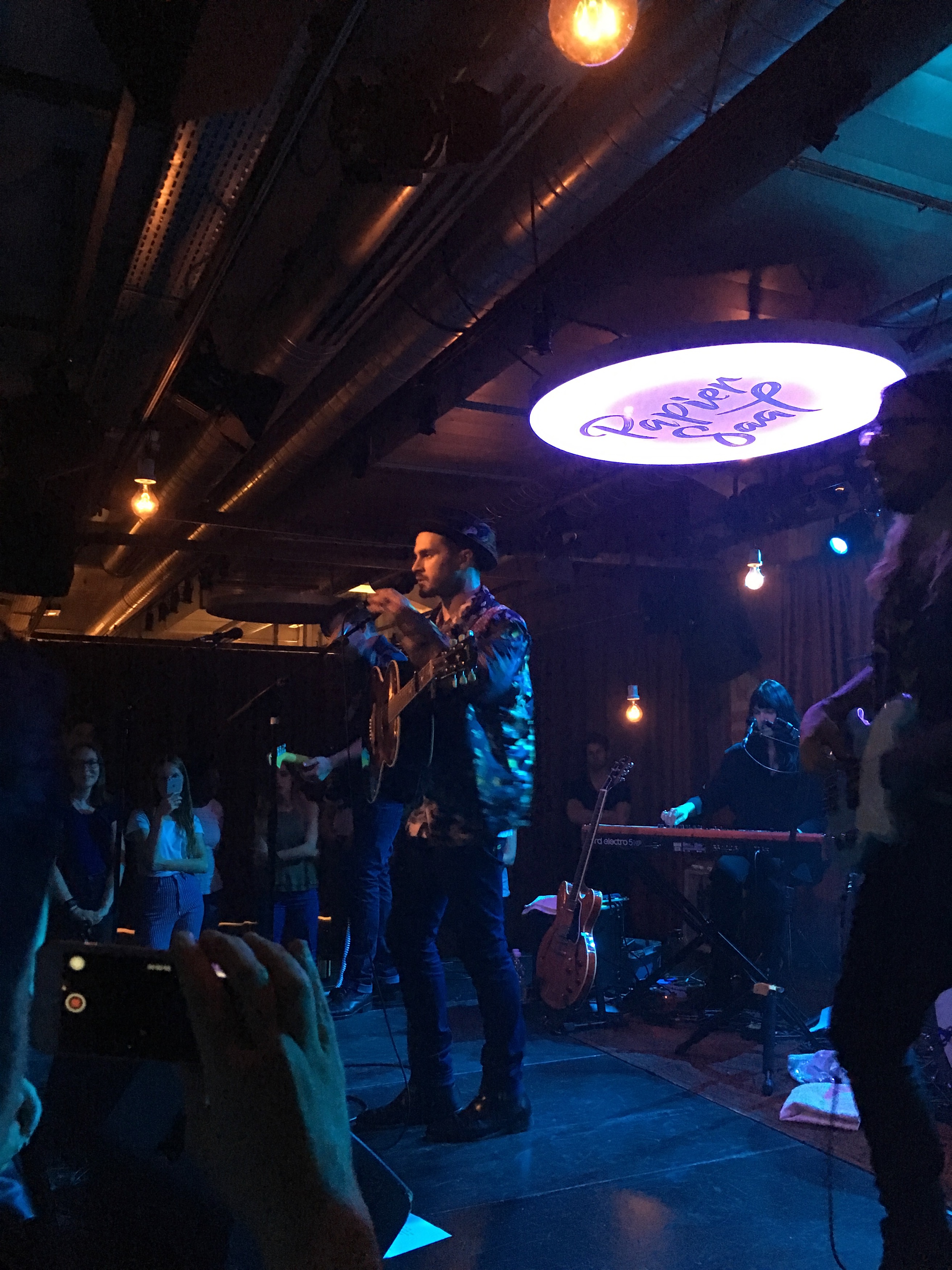 r Vampir Enzo, war am Donnerstag Abend sozusagen der Hahn im Korb. Mit seiner bunt bestickten Jacke und einem Hut mit federähnlichem Schmuck war Malarkey auffälliger gekleidet als der Rest der Band und auf der kleinen Bühne im Papiersaal umgaben ihn seine fast ausschliesslich weiblichen Fans von drei Seiten. Die Verlegung des Konzerts vom Plaza in den Papiersaal lieferte dem Publikum den perfekten Rahmen für dieses ruhige Konzert. Michael Malarkey war sprichwörtlich zum Greifen nah und stets mit einem Lächeln im Gesicht genoss der Singer-Songwriter die ungeteilte Aufmerksamkeit des Abends.
Zusammen mit seiner Band lieferte Malarkey eine musikalisch hervorragende Show. Mit seiner tiefen Stimme und den melodischen Gitarrenklängen verlieh Malarkey seinen Liedern einen äusserst gefühlvollen Ausdruck. Zu dieser harmonischen Stimmung trug auch ein E-Cello bei, welches sich als eine klangvollere Option als Streicher aus einem Synthesizer herausstellte.
Die amerikanischen Wurzeln seiner Musik liessen sich an den bluesigen Rhythmusmustern erkennen oder zeigten sich durch den gelegentlichen Einsatz einer Mundharmonika, welche den Liedern einen folkigen Touch einbrachte.
Neben seinen altbekannten Balladen wie Scars spielte Malarkey zwischendurch auch schnellere Stücke, beispielsweise My History Will Be the Death of Me, bei welchen das Publikum begeistert mitklatschte. Diese beiden Songs stammen beide von Malarkeys neustem Album Mongrels, welches im letzten Jahr erschien. In der Zwischenzeit hatte er noch die EP Captain Solitaire veröffentlicht, wovon er den gleichnamigen Titeltrack ebenfalls in seinem Set präsentierte.
Malarkey verriet dem Publikum, dass er eine besondere Verbundenheit zur Schweiz hat, da er als Kind regelmässig hierher kam. Sogar Chuchichästli konnte er aufsagen, weil ihm das seine Fans während dem Meet & Greet vor dem Konzert beigebracht hatten. 
Allgemein zeigte sich Malarkey sehr publikumsnah. Er witzelte herum, antwortete auf Liebesbotschaften seiner Fans und gönnte sich während des letzten Liedes sogar ein Bad in der Menge. Seine Erlebnisse auf der Tour dokumentierte er zudem für alle Fans in seiner Instagram-Story, wo er auch regelmässig seine persönlichen Musiktips vorstellt.
Es war ein stimmungsvoller Konzertabend und wir hoffen, dass uns Michael Malarkey mit seiner wunderbaren Stimme und seinem bezauberndem Charme bald wieder beehrt!
Text: Fabienne Gerber/ Foto: Facebook Michael Malarkey; Fabienne Gerber.