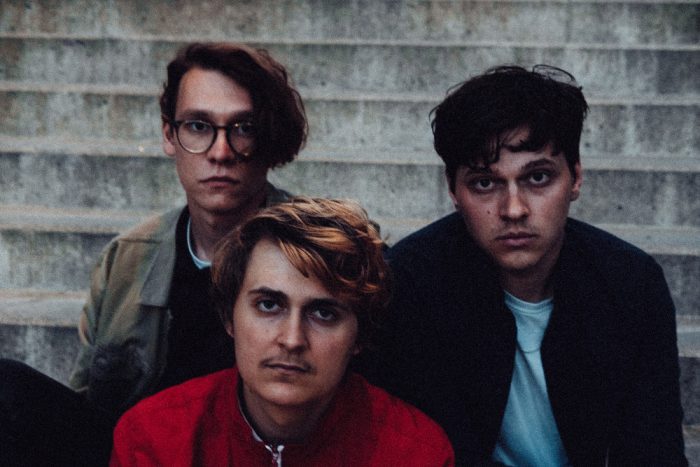 The Deadnotes sind eine Emo-Pop Band aus Freiburg im Breisgau mit Sänger/Gitarrist Darius Lohmüller, Sänger/Bassist Jakob Walheim und Schlagzeuger Yannic Arens. Sie haben im vergangenen Februar ihr neustes Album Courage auf ihrem eigenen Label 22Lives Records veröffentlicht. Milo Schärer von Radio Radius hat per Skype mit Darius über das neue Album wie auch die Auswirkungen der Corona-Krise auf DIY-KünstlerInnen gesprochen.
Milo Schärer: Ich habe mir heute dein Livestream-Konzert auf Facebook angehört und es hat mir sehr gefallen. Wie war es für dich, so zu spielen?
Darius Lohmüller: Sehr ungewohnt war es auf jeden Fall. Ich bin tatsächlich allgemein so ein bisschen skeptisch. Ich finde das eine super nette Idee, gerade Livestreams zu machen, aber tatsächlich in dem extremen Ausmass, wie das gerade stattfindet, wird es mir persönlich auf jeden Fall ein bisschen zu viel, wenn jeder Künstler anfängt, dem nicht mal Konzerte abgesagt wurden, jetzt plötzlich ein Livestream zu machen, weil das halt so ist. Ich dachte eigentlich, die Leute haben vielleicht gar nicht mehr so Bock darauf und gleichzeitig war es genau anders rum. Also, es gab ein riesiges Feedback und ich weiss nicht, wie viele Menschen das laut Facebook angeschaut haben. Das hätte ich gar nicht so gedacht und ich hätte mir mehr Mühe gegeben, wenn ich das gewusst hätte. Ich hatte auf jeden Fall sehr viel Spass.
Das ist schön zu hören. Ihr habt ja wie viele Bands wegen der aktuellen Corona-Situation Tourdaten absagen müssen. Wie geht ihr mit dieser Situation um?
Tatsächlich ist das ganz schwer zu beantworten. Wir waren mitten auf einer Tour, als das ganze aufkam. Wir haben tatsächlich die letzte Show noch in der Schweiz gespielt, und da war schon die ganze Zeit die Stimmung so völlig unklar, ob weiter Konzerte stattfinden können. Wir waren auch super gestresst von der Situation, weil wir immer Konzert gespielt und auch gewusst haben, die Leute wissen nicht, ob die Show jetzt stattfindet oder nicht. Gleichzeitig versuchten wir mit allen anderen Veranstaltern zu kommunizieren. Als dann der Moment kam, wo irgendwie klar war, alles ist abgesagt, war es eher mal eine Erleichterung, weil wir konkret wussten, was Sache ist. Aber gleichzeitig, jetzt gerade im Moment, wir versuchen das Beste daraus zu machen, wie jetzt ein Livestream oder ein paar schöne nette Specials auszudenken, aber wir sind schon alle sehr mitgenommen, sowohl privat wie auch als Band durch diese Tourabsage, die natürlich Pläne innerhalb von einer Minute durcheinander wirft, die seit weit über einem Jahr eigentlich so gemacht und ausgearbeitet wurden.
Ja klar, ist sicher eine merkwürdige Situation für alle Beteiligte. Ihr seid eine DIY-Band, ihr habt eure Platte auf eurem eigenen Label veröffentlicht und organisiert alles selber. Inwiefern ist die Situation für eine DIY-Band wie euch anders als für grössere Acts, die ebenfalls Tourneen absagen müssen?
Zuerst einmal, das DIY-Ding versuche ich immer zu trennen bei uns. Wir sind in der Hinsicht auf jeden Fall eine DIY-Band, das wir so viel wie irgendwie geht selber machen. Wir machen unser eigenes Booking, wir haben das eigene Label, so künstlerisch, Artwork, Musik natürlich machen wir komplett selbstständig. Allerdings im kommerziellen Sinne würde ich uns nicht als DIY-Band bezeichnen. Wir versuchen schon, einigermassen wirtschaftlich sinnvoll zu arbeiten, so dass für uns vielleicht mal irgendwie Geld herausspringt, was viele dann immer schon kritisieren, dass das nicht mehr als DIY bezeichnet werden sollte, wenn es kommerzieller wird. Allerdings, für eine Band wie uns, die natürlich gerade viel machen will, die alles selbstständig arbeitet und doch nicht ein Standing hat wie eine grosse Agentur, die mit Riesenkünstler arbeitet, habe ich gerade die Befürchtung, dass es gerade vielen Bands so gehen wird, dass jetzt alle grossen Agenturen und Künstler, die halt wirklich Veranstaltern Geld bringen, auf das sie jetzt angewiesen sind, unter relativ einfachen Umständen ihre Shows umlegen auf den Herbst und Winter. Das ist auch gut so, aber dadurch werden natürlich sämtliche Plätze eingenommen, die auch kleineren, nicht kommerzielleren Bands oder allgemein kleineren Bands zur Verfügung stünden sonst. Das ist schon auf jeden Fall eine Befürchtung, oder auch ein Gedanke, den ich habe, wird dann auch eine nicht-kommerzielle oder mindestens kleinere Subkultur ziemlich kaputt gemacht?
Es ist sicher eine schwierige Situation und ich kenne jetzt auch vom Radio her ein paar Bands in den USA, in denen die Leute neben der Band im Service arbeiten. Für eine solche Band ist das natürlich eine sehr harte Situation.
Genau, im Prinzip trifft es uns auch gerade so sehr direkt. Ich und mein Bandkollege Jakob haben die Arbeit verloren durch die Situation aktuell. Ich wurde gekündigt, er hat aktuell keine Arbeit mehr, weil das Restaurant, in dem er sonst nebenjobbt, geschlossen wurde. Ich arbeite auch in der Vernstaltungsbranche und da kann man aktuell sowieso nichts machen. Es geht sehr Vielen so, da natürlich viele Musiker selber als Nebenjob oder auch als Hauptberuf in einem ähnlichen Gebiet tätig.
Erst mal mein Beileid. Das führt zu meiner nächsten Frage: was können denn Fans tun, um euch oder andere Bands in dieser Situation zu unterstützen?
Ja, da wurde schon sehr viel gesagt, denke ich. Ich glaube, das beste ist, in der Zeit wieder die guten, alten Plattenverkäufe oder Merchandiseverkäufe anzukurbeln. Klar, natürlich hilft, das Album zu streamen, da kommt aber ganz wenig rum. Bands hilft es am meisten, wenn physische Produkte gekauft werden. Wenn Leute das gerade umso bewusster tun, dann freuen sich alle darüber. Trotzdem glaube ich auch, kann ich noch mal für uns sagen, wir sind alle super blöd getroffen sowohl als Band wie auch privat, aber wir sind alle noch genug privilegiert, um die Situation, na ja, einigermassen gut überleben zu können. Es gibt natürlich Menschen, auch unabhängig von der Musik, die da gerade auf jeden Fall viel mehr Hilfe bräuchten, sei es viele Obdachlose, die nicht einfach mal zuhause bleiben können. Ich finde es sehr wichtig, da nicht nur Bands direkt zu unterstützen, sondern auch einfach allgemein zu hinterfragen und zu recherchieren, wo es gerade im ganzen System Problematiken gibt.
Das sehe auch so. Trotzdem würde ich gerne auch noch als letzte Frage zur Corona-Situation fragen, ob es sonst noch Bands gibt, die du kennst, die im Moment besonders Unterstützung brauchen könnten.
Ui, ich glaube, die Liste würde komplett den Rahmen sprengen. Ich kenne gerade wirklich fast keine Band, der nicht irgendwie ganz krasse Pläne durchkreuzt wurden oder, die natürlich auch jetzt finanziell in einer super schwierigen Situation sind. Ich will da gar keine Namen nennen, denn die Liste wäre wirklich viel zu lange und da kann ich gerade niemanden mehr hervorheben und will niemanden benachteiligen.
Alles klar. Dann sprechen wir doch ein Bisschen über eure Musik. Ihr habt gerade ein Video zu Ghost on the Ceiling veröffentlicht. Kannst du mir vielleicht etwas zu diesem Lied sagen?
Na klar. Er ist tatsächlich der allerletzte Song, der überhaupt für diese Platte entstanden ist und wurde auch tausend verschiedene Richtungen von uns ausgearbeitet, und war ursprünglich auch super, super lang mit ganz jazzigen Teilen zwischendrin. Wir haben uns irgendwann ganz am Schluss im Studio selber, in England, wo wir aufgenommen haben, dazu entschieden, den möglichst kurz, prägnant und einfach in-your-face zu machen, worüber wir mittlerweile sehr happy sind. Das passt eigentlich auch ganz gut zum Inhalt, es ist ein Song über gerade diese Momente, in denen man sich sehr überstürzt oder schnell für was entscheidet, wo man sich gedrängt fühlt durch irgendwas Unbestimmtes, was im Raum steht, möglichst schnell eine Entscheidung zu erzwingen oder sich für irgendwas zu entscheiden, was einen oft nicht längerfristig an den Punkt bringt, wo man eigentlich sein will.
Ich möchte noch über ein paar mehr Songs auf eurer letzten Platte Courage. Das Lied Never Perfect thematisiert Mental Health, und ich nenne es jetzt so, weil es nicht unbedingt einen guten deutschen Begriff dafür gibt. Wieso wolltet ihr dieses Thema ansprechen?
Eigentlich genau aus dem Grund, den du sagst. Es gibt nicht einmal einen wirklich gescheiten deutschen Begriff dafür und gerade das zeigt ja schon, wie will man grösser über Thema sprechen, wenn es dafür nicht einmal eine Bezeichnung dafür gibt, die jeder allgemeiner verstehen kann. Das ist etwas, das wir als Musiker sehr stark wahrnehmen, dass Mental Health und sich damit auseinandersetzen eine sehr grosse Rolle spielt, weil du einen ganz extrem inkonstanten Alltag hast, weil du immer wieder auf Tour oder in anderen Situation unter extremem Druck und in extreme Stresssituationen gebracht wirst kombiniert mit beispielsweise zehn Stunden Fahrt noch nebenher und dein privates Leben super abgeschottet wird so einem langen Zeitrahmen, in dem man unterwegs bist. Viele Musiker oder Menschen, gerade in unserem Umfeld, die in der Musikindustrie arbeiten, haben zunehmend psychische Probleme oder man hört immer wieder sehr stark davon, und trotzdem spricht niemand wirklich offen darüber. Wir wollten das versuchen mit der Platte zu machen, offener darüber zu sprechen und aufmerksam darauf zu machen, dass es insbesondere in dem Bereich, wo wir uns zumindest auskennen, Musik und auch ganz vielen anderen, ein Thema ist, das viel mehr Präsenz braucht. Ich glaube, man kann da Dinge nur verbessern, wenn man für sich selber und für Menschen um sich herum darüber spricht, wenn man gemeinsam sich damit auseinandersetzt, wie kann ich ihn schwierigen damit umgehen, was kann ich anderen weitergeben.
Ja, auf jeden Fall. In diesem Zusammenhang spendet ihr auch ein Teil eurer Einnahmen von der Platte an Help Musicians und Ni9ht H3lps. Was machen diese Organisationen?
Es sind zwei Organisationen, eine aus England, Help Musicians, und Ni9ht H3lps aus Deutschland. Beide Organisationen machen grundsätzlich sehr ähnliche Arbeit. Sie schaffen Aufmerksamkeit für genau dieses Thema mit ganz explizit genauem Fokus auf Menschen, die in der Musikbranche arbeiten oder selber Musiker sind und bieten aktiv Workshops an, in denen sie Menschen beraten. Da sind wir auch wieder dabei. In England ist das Thema einfach schon viel verbreiteter in jeglichen Gesellschaftsschichten. Dort habe die eine super schöne Sache gestartet, und zwar eine 24 Stunden Helpline, sozusagen eine Seelsorge Hotline, die man anrufen kann, wenn man dringend Hilfe und jemanden zum Sprechen braucht. In Deutschland, wie schon gesagt, da gibt es solche Sachen noch nicht, dort wird viel weniger darüber gesprochen. Umso schöner ist es, dass es hier auch eine Organisation gibt, die in diese Richtung arbeitet. Wir haben sehr lange recherchiert, tatsächlich, mit wem wir das machen wollen und es war gar nicht so einfach, Leute zu finden, die da gute Arbeit und wichtige Arbeit machen.
Ich möchte noch zu einem Song fragen und zwar zu Hopeless Romantic, ein Song, der vielleicht in eine etwas politischere Richtung geht als euer restliches Material. Was wolltet ihr mit diesem Lied sagen?
Allgemein ist es uns super wichtig, in der heutigen Zeit als politische Band da zu stehen. Als Band zu sagen, oder allgemein als Mensch überhaupt zu sagen "ich bin unpolitisch, das geht mich nichts an" finde ich etwas ganz Furchtbares und total bescheuert. Und gerade als Band, die eine gewisse Platform sowieso hat, finde ich das in der heutigen Zeit, wo so viel passiert, sehr, sehr wichtig, sich politischen Themen zu widmen, auch wenn wir in einer Musikrichtung unterwegs sind, die oft stigmatisiert wird als sehr unpolitisch oder nur auf emotionale Themen beschränkt. Mit dem Song haben wir zusammengefasst, es geht uns nicht um eine politische Thematik, aber es ging uns darum zu sagen, es passiert so viel Scheisse auf der Welt, sei es viele Sachen, die gerade untergehen, was in Griechenland auf Lesbos abgeht, wo 25'000 Menschen im Lager gefährdet sind, während in Griechenland selber Menschenansammlungen von, glaube ich, fünf oder zehn Leuten verboten sind. Das sind alles Themen, die präsent sind, wo man dringend was ändern muss und wo wir der Meinung sind, dass, wenn man da viel mehr gemeinsam daran arbeiten würde, Dinge sich auch aktiv verändern können. Allerdings nicht, wenn jeder an seiner eigenen Sache arbeitet und sich gegenseitig kritisiert.
Auf jeden Fall. Noch eine letzte Frage: wir haben viel über die Corona-Thematik gesprochen und ihr ja schon ein paar von euren Tourdaten neu eingeplant. Wann man euch wieder live sehen?
Das ist natürlich eine gute Frage und ich wünschte, ich könnte die eine sichere Antwort darauf geben, aber die hat gerade niemand. Wir spielen ab Ende Mai offiziell wieder live, wenn sich bis dahin irgendwas getan hat, das weiss keiner aktuell. Ansonsten sind wir gerade daran, oder haben auch schon, einige Konzerte, die jetzt abgesagt wurden, vor allem unsere Touren in Frankreich und England, auf den Herbst zu schieben, und wir sind auf jeden Fall im September in diesen Ländern auf Tour. Wir haben unsere Freiburg Hometown-Release-Show auf den 27. November geschoben. Ich sage es mal so, wenn alles gut läuft, sind wir ab Ende Mai unterwegs, aber da das niemand weiss, der Herbst wird auf jeden Fall eine intensive Zeit für alle, und da gibt es uns, glaube ich, mehr als genug oft zu sehen.
Links